[column width="1/1″ last="true" title="When to Pray" title_type="single" animation="none" implicit="true"]
As a triathlete, many people ask me how I am able to achieve my exercise goals. Scientific research, peak human performance, modalities of training, nutritional plans, technological breakthroughs, or even fashionable trends are all areas where many athletes seek to improve. There is no doubt that consistency is the greatest contributor to success.
"A prayerful life stems from a worship filled heart."
One of our goals for Harvest Prayer Week is that we would be a people marked by abu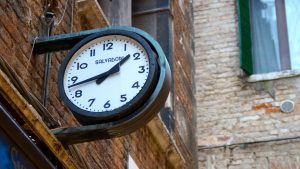 ndant prayer. There are many aspects of a healthy prayer life that are important, but none are more foundational than establishing a consistent pattern of prayer. (
1 Thess

5:17
,
Phili 1:4
,
Col 1:3
) A prayerful life stems from a worship filled heart. We have been afforded an abundance of grace which should lead us into an abundance of prayer. In this season of disciplined prayer, God has shown me that a persistent pursuit of prayer leads to a sanctifying pursuit of holiness. Listed below are some practical prayer nuggets that will hopefully challenge you to pray more consistently this week.
Pray with Others
As a people of God, we are marked by prayer. (Acts
2:42
) Nothing creates more unity, passion, and vision than consistent prayer together. (James
5:16
) Prayer in community develops accountability, growth, and mission. Be a prayer warrior who prays consistently with and on behalf of others. Encourage others by praying together with them. Let others know you are praying to the God of the universe on their behalf. Be vulnerable and humble enough to let others pray for you. Strive to be a Christian who friends know that can turn to for prayer.
Don't Idolize Prayer
One of my favorite prayers in the Bible is Daniel 9. It is a plea for mercy and for God's favor to "shine upon our face." Many times we choose not to pray because we feel we aren't adequate. Satan tempts us into thinking that our prayer life isn't good enough. The fact is that we aren't good enough apart from Christ, but Christ we are more than conquerors (Romans 8:37-39). Consistent prayer develops resiliency to the the idolatry of prayer, and places all of our hope in God who delights in our worship.
Pray for People by Name
The Bible tells us that God will rejoice over each name that is in the Book of Life (Philippians 4:3, Revelation 3:5, Revelation
20:15
). As followers of Christ, this should lead us to pray for the lost. God has challenged our community group to pray for people by name. Praying intentionally for a person by name means investing time and energy into the life of that person. Write someone's name down and spend some time praying for them today. Make a plan to  pray for them consistently, invest into them relationally and boldly engage them with the Gospel. When we pray for people by name, we will see the sovereignty and power of God displayed in their lives.
Be Moved by the Spirit
Did you just get a message from a covenant member in need of your intercession? What about someone you just met at the park who shared their struggles in life? What is stopping you for praying for people out loud right in the moment? Praying immediately tells the world that there is power in the name of Jesus! Pray for boldness to intercede for others consistently. (Acts
4:31
, Ephesians
6:19
)
Have a Plan
It's difficult to have a consistent prayer life in the hustle and bustle of everyday life. Not having a plan is pray is the same as having a plan to fail. Developing the discipline to pray consistently is crucial to the spiritual development of every believer. Set aside a time each day and spend time in prayer throughout the day. Jesus himself prayed early and often as the example for us. (Mark
1:35
) Fasting is a good way to develop a dependence upon God through prayer. If you are a list person like I am, it may also be helpful to have a personal prayer journal. Delight in prayer. See it as an opportunity and not a burden.
A People Who Pray
2016 is a new opportunity to experience grace; that we may grow us closer to Christ. There is no work more important for the Kingdom and devastating to the enemy than regularly praying the truth of God's Word. At Harvest Church, our mission is to joyfully make disciples of all nations. As we continue through Prayer Week at Harvest Church, let's seek to learn how prayer points us upward to Christ and outward to serve one another with the truth of the Gospel.
– Chris Villanueva
[/column]