[column width="1/1″ last="true" title="Psalm 5″ title_type="single" animation="none" implicit="true"]
For you are not a God who delights in wickedness;
evil may not dwell with you.
The boastful shall not stand before your eyes;
you hate all evildoers.
You destroy those who speak lies;
the Lord abhors the bloodthirsty and deceitful man.
God despises sin.
Sin is diametrically opposed to God's plan for the life of people.
Those who love sin and pursue it are not abiding in Christ.
So, why do Christians fail to confront sin?
Why does the church seem to sidestep issues when it is not 'culturally appropriate?'
Its not comfortable to be confronted for something that I do wrong.
It offends my pride and my self-righteousness.
David's response was not one of puffed up pride, but one that we should emulate.
But I, through the abundance of your steadfast love, will enter your house.
The connecting word that David used here was but.
David understood that God hates sin and those who are opposed to his Kingdom.
He also understood that he was guilty of that very thing.
David was bloodthirsty.
He killed hundreds of people, and his army killed thousands.
He even murdered Bathsheba's husband.
David was deceitful.
He was crafty when he wanted Bathsheba, but didn't want anyone to know his sin.
He lied and didn't trust God at various points in his life.
He confesses much in Psalm 51
David should have been hated by God, but…
But I, through the abundance of your steadfast love, will enter your house.
I will bow down toward your holy temple in the fear of you.
It is only by the work of God that anyone can dwell in God's house.
It is only by the never ending love of God that any person who has sinned, that's all of us, can worship the Lord, our righteousness.
Lead me, O Lord, in your righteousness because of my enemies; make your way straight before me.
Its interesting that David does not ask God to make him more righteous, which is often the topic of pulpits across the world. Instead, he asks for God to lead him into HIS righteousness and into HIS way.
Isaiah 64:6 reminds Israel that their righteousness is as filthy rags. Without going into detail, we need to understand that our works, however good, cannot buy us entry into God's presence, into his Temple, in to the Holy of Holies.
Paul picked up on this in Romans 10:3-4:
"For, being ignorant of the righteousness that comes from God, and seeking to establish their own, they did not submit to God's righteousness. For Christ is the end of the law for righteousness to everyone who believes."
We are called to walk in humility, abiding in Christ.
We are called to rely on the work of Christ which was accomplished on our account.
We need to let go of the burden of measuring up.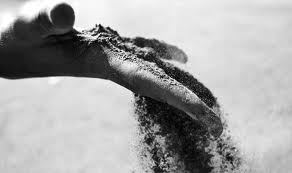 Realize that you will never measure up, but Jesus measured up for you.
Are you abiding in Christ this week?
Or are you abiding in your own accomplishments?
Are you boasting in Christ?
Or are you boasting in what you have done?
Are you tolerating sin in your heart?
Or are you seeking to actively give that part of your life to Christ?
Are you hating your neighbors?
Or are you seeking peace with them as Christ sought peace with you?
[/column]
[blank h="30″]
[/blank]
[column width="1/1″ last="true" title="Songs for Corporate Worship" title_type="single" animation="none" implicit="true"]
[/column]